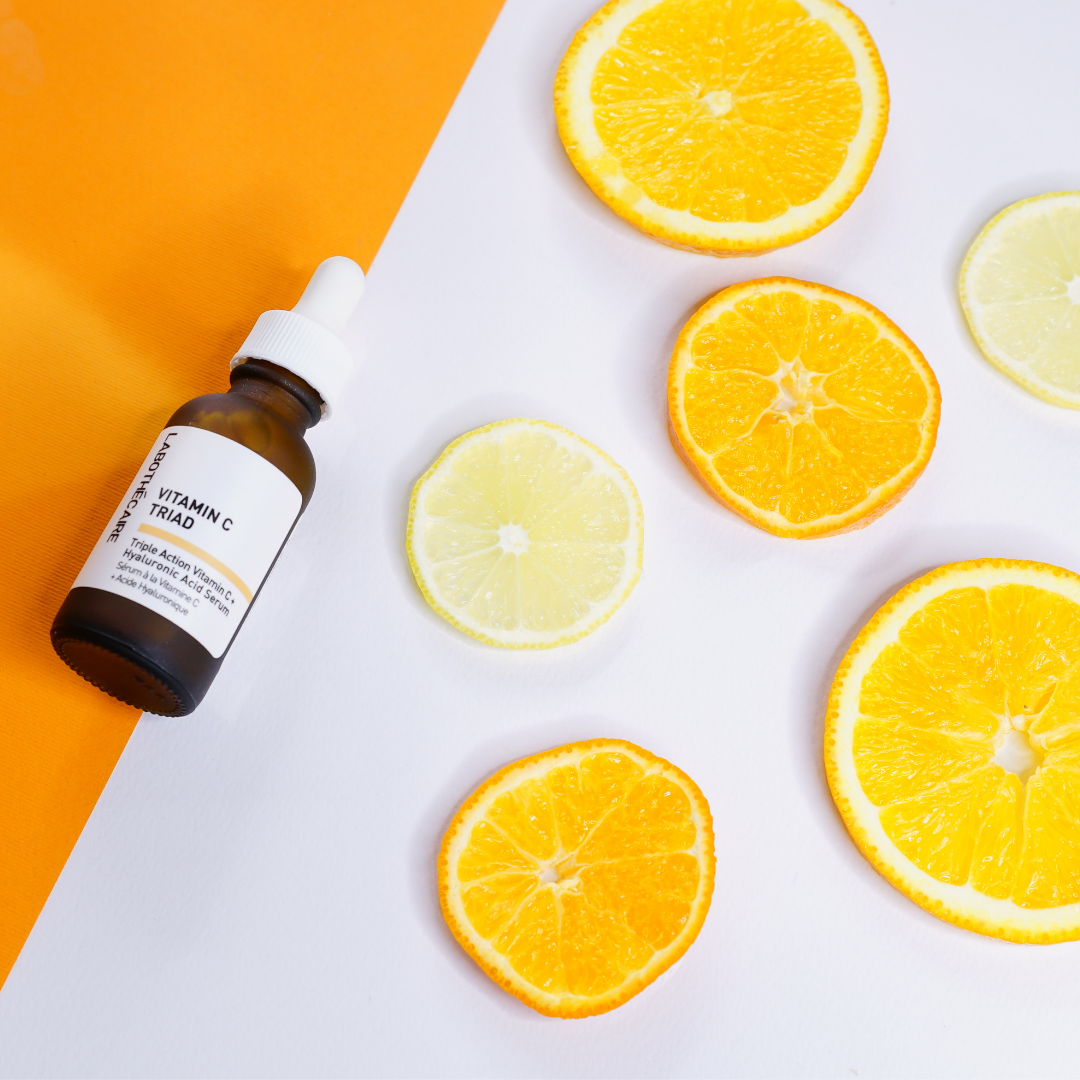 What You Need to Know About Your Vitamin C Serum & How to Choose the Right Type for Your Skin
Vitamin C has been the IT ingredient for quite some time. If you take a look at any brightening product, you are most likely to find L-Ascorbic Acid listed at the top of the list. L-Ascorbic Acid (Vitamin C). In addition to its brightening properties, is an excellent choice for fighting oxidative stress, which is at the root of rapid collagen degradation, and which in turn causes the skin to lose its firmness and elasticity.
Vitamin C has so many properties, it can be labeled as a "miracle ingredient". Unfortunately, some people, like myself, may find Vitamin C to cause skin irritation, redness and possibly breakouts, and will therefore choose to avoid it entirely.
Well, I have good news for you, there are other forms of Vitamin C that we can both use instead of L-Ascorbic Acid. These Vitamin C "derivatives" are suitable for all skin types, including sensitive skin. They are less likely to cause irritation and are full of amazing properties.
In addition, L-Ascorbic Acid oxidizes rather quickly when exposed to air and light, and that causes your serum to turn yellow. Be careful, when the vitamin C oxidizes it becomes inactive and could possibly damage your skin.
On the other hand, Vitamin C derivatives such as Sodium Ascorbyl Phosphatem Magnesium Ascorbyl Phosphate and Ascorbyl Glucoside have been proven to be more stable than L-Ascorbic Acid in skincare formulas. In fact, depending on the formula, a serum incorporating these ingredients could last for up to 12 months after opening (instead of 1-2 months only).
Going back to my own skincare routine a few years ago, I tried to incorporate L-Ascorbic Acid but it irritated my skin every time. It didn't matter which concentration I used or in which form (whether serum or powder) it caused my skin to itch and breakout (mostly on my forehead). I then decided to avoid Vitamin C altogether. 
A few years later, thanks to a great chemist I learnt about Vitamin C derivatives, such as Sodium Ascorbyl Phosphate, Magnesium Ascorbyl Phosphate and Ascorbyl Glucoside. These forms of Vitamin C derivatives are less irritating and are even suitable for sensitive skin.
Let me briefly talk about each one of these derivatives:
First, Magnesium Ascorbyl Phosphate (MAP)
MAP is a derivative of Vitamin C. when it comes to vitamin C derivatives, MAP is definitely a great option. In fact, it is a skin brightening superstar. Studies have shown that MAP can boost collagen synthesis and is proven to work as a skin brightener.
Additionally, it has soothing properties that may play a role in reducing blemishes. It is considered as one of the most hydrating forms of vitamin C. 
Second, Sodium Ascorbyl Phosphate (SAP)
Sodium Ascorbyl Phosphate is a stable derivative of Vitamin C. When absorbed into the skin, it converts to Ascorbic Acid (AA) and does all the magic AA is proven to do (which is being an antioxidant, a collagen booster, and a skin brightener).
Studies have shown that SAP is a great antioxidant with photo-protective properties and skin brightening benefits. In addition, it smoothes wrinkles, visibly firms the skin, and reduces discolorations. 
Lastly, Ascorbyl Glucoside
Ascorbyl glucoside is also a stable form of vitamin C. When absorbed into skin, it breaks down to ascorbic acid, also known as pure vitamin C. Once absorbed, it to gradually breakdown to Vitamin C, which leads to longer-lasting benefits.
Ascorbyl glucoside has antioxidant properties and works well with other replenishing and antioxidant ingredients to preserve key substances your skin needs to look smoother, brighter, and younger.
Research has shown that Ascorbyl glucoside is able to improve uneven skin tone and hyperpigmentation in addition to its great antioxidant protection and collagen boosting benefits.
Once I got familiar with these ingredients, I realized that they should be incorporated into our product range, and that when we created the Vitamin C Triad Serum. In fact, even if your skin can handle L-Ascorbic Acid, it would be great to make these ingredients part of your daily skincare routine due to their wonderful brightening properties. 
Vitamin C Triad Serum was the answer my skin needed. I decided to create the product for women like me who wanted to add Vitamin C to their skin routine. Not only are the results noticeable, the texture is light, fast-absorbing and without any funny smells. 
We always recommend our customers to take before and after images before using a new product. And we are fascinated each time by how amazing the results are, especially when our three glow serums are used together: the Vitamin C Triad Serum, Double Hyaluronic Acid Serum and the anti-aging superstars Squalane + Vitamin E serum. The four active ingredients work in perfect synergy to give you an instant glow, noticeable brightening and texture enhancement within one month only!
If you have any questions please send us a message in the comment section. We would love to hear from you!