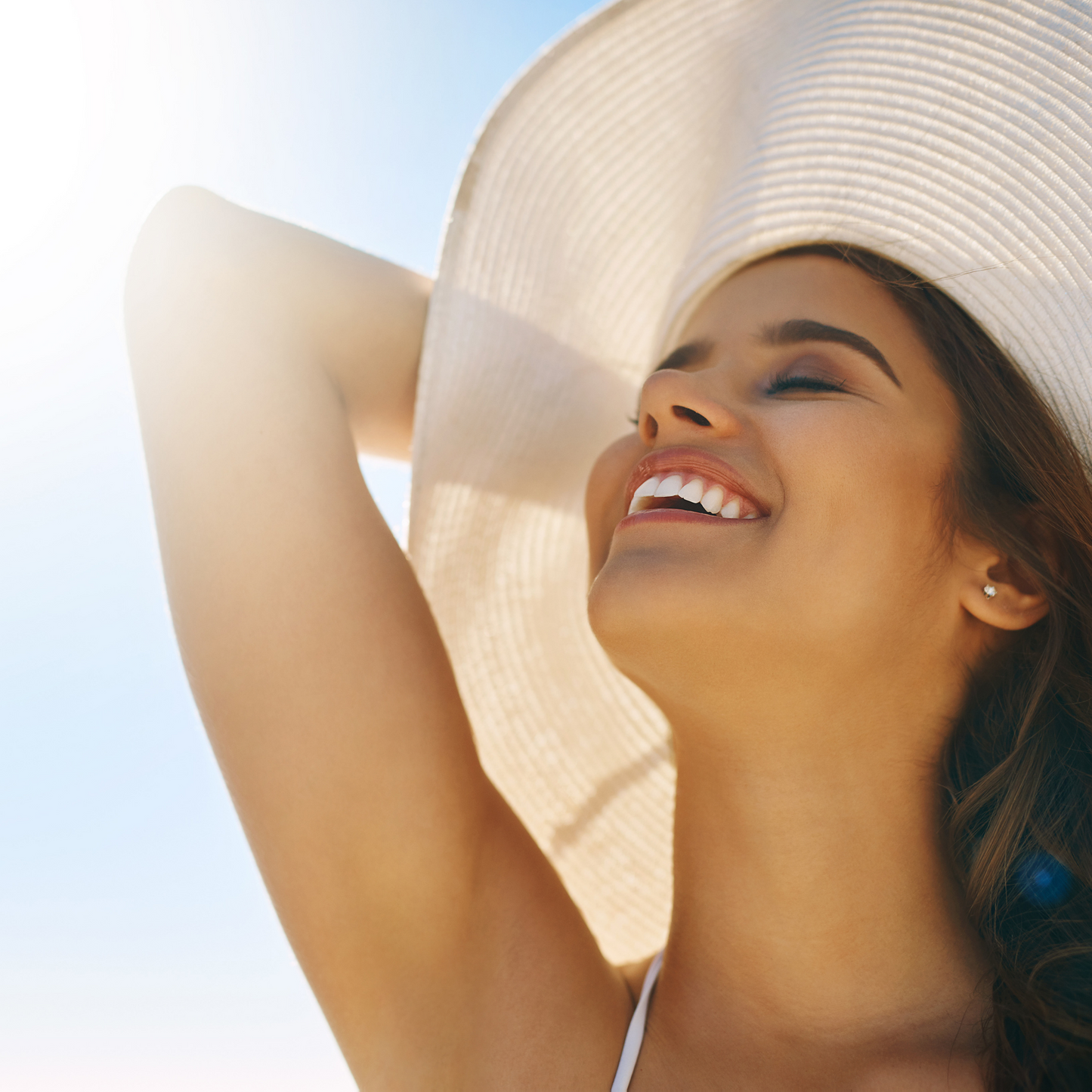 Sun Series - Episode One: My Skin and the Sun
It is summer time!
Temperature levels are skyrocketing and we are facing one of the hottest summers in Saudi Arabia. At the time of writing this post, it has reached 39°C in Jeddah, 40°C in Dammam and 44°C in Riyadh. So speaking about sun protection is pretty relevant!
Let's start by confirming one thing; no matter the season, wearing an SPF is crucial for the health of your skin (yes, even when it is cloudy outside).
Now that we cleared this up, let's dive into our relationship with the sun. I understand that the sun has gotten "bad rep" for as long as we can all remember. But to be fair, it is not all bad. Sunlight remains essential for the synthesis of vitamin D which is crucial for our, among other things, immune system and teeth and bone health. In fact, according to Ryan Raman, MS, RD, the sun provides the energy necessary for the synthesis of vitamin D, which occurs when UVB rays hit cholesterol in skin cells.
Let's now look at the other side of the coin; it is no exaggeration that the sun's radiation can be harmful to the skin. It can cause:
Premature skin aging.
DNA damage.
First: Premature Aging 
How Does UV Radiation Cause Premature Skin Aging?  UV radiation is responsible for approximately 80% to 90% of facial skin aging. UV radiation, especially UVA cause the production of certain enzymes that lead to the destruction of collagen and elastin. And that is when premature fine lines and wrinkles appear on the skin.
Second: DNA Damage
We often hear that UV radiation damages DNA, but how does this damage occur? UV radiation makes up the minority of solar radiation yet it causes the most damage. The energy from radiation is transferred to light-absorbing molecules in the skin called chromophores. In human skin, especially the epidermis, there are several key naturally-occurring chromophores that absorb UV radiation – DNA, urocanic acid, amino acids, and melanin.
When UV radiation is absorbed by DNA it can cause damage that can lead to genetic mutations. Usually, our cells correct this damage seconds after it has occurred, however, if the damage goes uncorrected, the genetic information may be permanently mutated. One of the key cell regulators that can end up mutated as a result of DNA damage is the p53 tumor-suppressor gene which prevents the formation of tumors. If the key regulatory genes fail, cells with mutated genes can multiply uncontrollably and eventually result in skin cancer.
According to the skin cancer foundation, "It has been proven on the molecular level that the sun's ultraviolet (UV) light damages the skin's cellular DNA, creating genetic mutations that can lead to skin cancer".
Stay tuned for our second episode where we discuss the different types of radiation and how different their effects are on our skin. 
With all my love,
Fatmah A. Al Maddah
Brand Founder & Skin Expert